Sheet Forming
As a factory certified by a major convenience store groups, we develop new food packaging containers using A-PET, OPS, PP, and other materials, to promote packaging containers that are highly hygienic and safe.
Business Description
Production and distribution of vacuum and thermoformed food packaging
Vacuum and thermoformed food packaging containers
Food packaging

Fruit clamshells, fruit punnets

Frozen food trays

Tofu packaging

Meat trays

Confectionery packaging trays

Fresh food packs

mushroom trays

Other packaging containers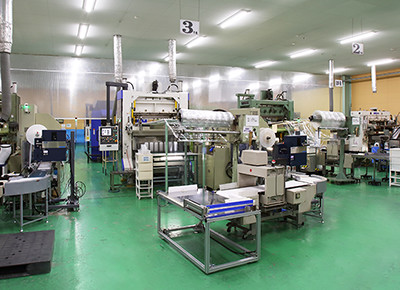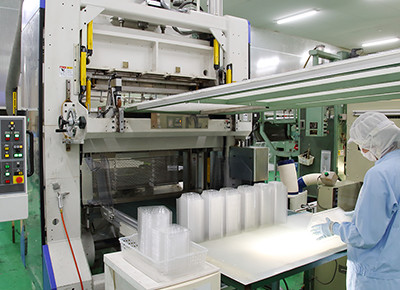 Sheet forming machines
Compressed air vacuum forming machine

This is a machine equipped with functions of vacuum forming and pressure forming.
It is used to manufacture thick PET containers used for packaging created in complex shapes, deep packaging containers, etc.
Examples: Fruit clamshells, mushroom trays, fresh food trays
Vacuum forming machine

This is a general forming machine that uses a vacuum to form materials.
Used to manufacture thinner PET packaging containers created in simple shapes.
Thermal plate forming machines

This is a general forming machine that uses compressed air to form materials.
Used to manufacture container packaging made from OPS sheet.
Product examples: Clear food packaging, frozen food trays, other packaging
Contact Us
Sales Division, Resin Manufacturing Dept.
TEL: +81-748-22-5638
(8:30-17:30, Mon to Fri)
Other unique technologies